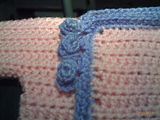 Hayley asked me a few days ago to make Ellie a cardigan. I explained to her that I'd never done one before, but that I'd seen the posts on the 'ville about the
BICO (Baby It's Cold Outside)
cardigan from
Crochet Me!
, and it was supposed to be super-easy, so I'd try that one first.
Well... here we are!


I used a different yarn and hook than what the pattern calls for, mainly because there's no way I could GET the yarn the pattern calls for (sold only in the U.S.). I ended up using baby dk yarn (slightly thinner than regular dk yarn) and an H hook. I made the pattern as indicated for the 12 month size, due to the changes in hook size and yarn.


It's hard to tell from the pictures, but it looks to me like this is something Ellie will be able to use now, instead of having to grow into.


I'll find out soon, though... I'm going to wash it tonight and hopefully I can get Hayley to bring Ellie over tomorrow for a fitting. Maybe she'll even let me take some pictures of Ellie in it! :D