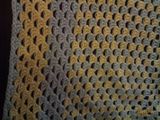 This is actually quite an old one. I started it back in June/July, and had it finished by mid-July. It was for my neighbor's niece (Ellie's mom's cousin), who had a baby boy in July.


I told my neighbor that it was done, and told her that when Gemma (her neice) came over to visit, to have her stop at my house and get her blanket. She never came. (Methinks my neighbor forgot to tell her.)


So while cleaning and organizing my stash, I put all of my FO's in a storage box, and this happened to be one of them.


Well, I happened to run into Gemma a couple of weeks back while the kids and I were out shopping, and I thought to mention this afghan that I have had for months... and months... and months!


Tonight (FINALLY!!), Hayley (my neighbor's daughter, Ellie's mom) came over and said that her aunt Carol (Gemma's mom) was over and had asked about the blanket.


So now I have a little more room in my FO box... what to put in it next? Decisions, decisions. *lol*