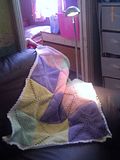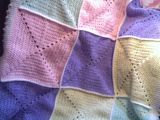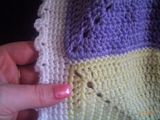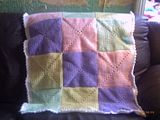 I **FINALLY** finished it!!!!
This was, of course, made without a pattern. Just make-up-as-you-go.
There are 3 squares each of purple, pink, green, and yellow, sc'd together (as you can see if you look at the pictures above). I prefer to sc squares together - it's quicker and seems stronger to me.
The border is 4 rounds of sc and 1 round of 3sc, ch 3, 3sc (without skipping any sc's). that's what gives it the ruffly/key-hole look.
The whole thing was made with dk baby yarn and an H hook.