I just finished this one last night. Actually, I only just STARTED it on Friday night... so it was only a 24-hour project (or thereabouts). It's the 3rd one I've made with the same type and color of fun fur, but this one has turned out the best. Lexi's has stretched out into a NOODLE... and Chloe promptly lost hers at school the first time she wore it! *grrrr!!!*
This one was made on 8 mm needles using one strand of fun fur and one strand of plain white acrylic (dk weight) held together. You can't even see the white acrylic, but it gives it a lot more structure - not to mention thickness.
As you can see in the second picture, she absolutely loves it. :)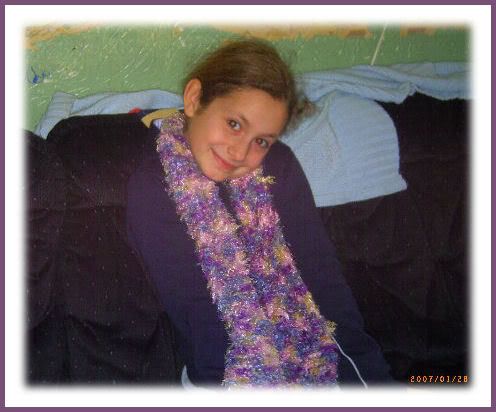 I still have one more that I have to make, for Syrina. But if I do it the same way I made this one, it should work up really quickly.
It's really good for a quick project, and gives me a sense of accomplishment. Which is a really good thing, when you consider the other WiPs I have going at the moment seem to be taking for-freaking-ever!!!