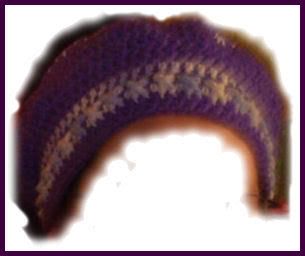 The inspiration for this project was two-fold. For one thing, I wanted something that I could easily work up in one day, and for another, I was tired of looking like a freak. You know the
expression "bad hair day"? EVERY day is a bad hair day for me. I NEVER have a "good hair day". The BEST I can hope for is an "okay" hair day. More often than not, what I have is a "kinda-sorta-almost-okay hair day". If you have atrocious hair like mine, then you'll understand the desperation for something to hide the freak of nature that god decided to crap on my head. (That's what it
feels like some days - like God decided to just take a crap on my head. Or
mother nature. Whatever. You know what I mean.)
I spent a few hours last night trying to make
Dot's Owata Hat
pattern. I followed all of her directions, to the letter except that I added one row to it.
But guess what????
.....................................

....................

It's too effing small!!!!!

I was literally in tears once I realized that I had sat here and spent all that time, energy, and yarn on absolutely nothing. (The fact that I was going through nicotine withdrawal at the time didn't help either.)


So I figured I'd try the

Wavy Gravy Rasta "Tam" Snood

instead. I would have started it as soon as I realized the Owata Hat was too small, but it was past 2 a.m. ... and I thought maybe I should get some sleepSo after breakfast this morning, I pulled out my yarn and hooks and worked this one up. It's not quite as big as I thought it would be, but at least this friggin thing FITS!!!!!