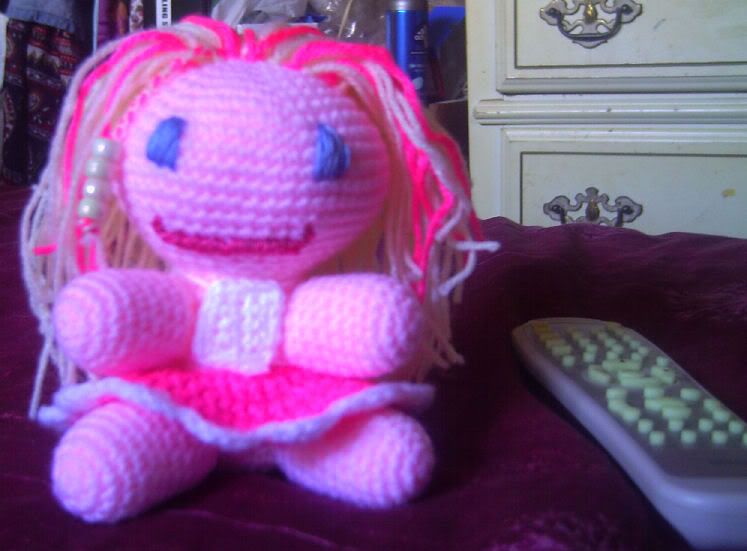 Here it is, the amigurumi I made for my neighbor's daughter, who turned 15 today.
I named it Kioko, which means "Happy Child" in Japanese - because I was hoping it would make Tiffany happy. :)
I actually did have her 99% finished last night - the only thing I had to do to her this morning was finish her hair. Because I gave her straight hair, I had to attach each strand separately, and it took a looooooooong time!
She's made with 100% acrylic, DK pink yarn. Pink because that's her favorite color (I asked her mom). Her face is embroidered on using DMC embroidery floss (I liked the shine it made, and thought it would look better than just using yarn). Her hair is a mixture of DK acrylic and WW yarn that I had in my stash. I'm not sure if you can tell from the picture, but the pink in her hair and the pink skirt is made from the same yarn. The edging on her skirt and her top are both made from white DK yarn.
Not only does Tiffany already have her, but while trying to type up this entry, she came to the door, wanting help with binding off a knitted top she'd made for the doll! :D I'm just so glad she liked it. I know that at 15, girls aren't very likely to play with dolls, but I was hoping she'd see it as what *I* saw it - a very cute, very unique thing to decorate her room with.
I'm just so glad she likes it!