Can you believe that after over 20 years of crocheting, I've never made dishcloths before today? Or... well... yesterday, to be technical.
I bought this yarn a while ago. I was shopping at a place called E. Kemp's, just about 3/4 of a mile or so away from my house, and they had this stuff on clearance sale. It didn't have a label, so I didn't know what it was, but for only £0.30 a skein, it was a deal I just could NOT pass up. And the colors are beautiful. These pictures just don't do it justice. It's a variegated, in pink, light lavendar, and dark lavendar. Very spring/summer-ish.
But yesterday, I was looking in my yarn box for something else, and I came across this ball of yarn. And I remembered a thread I'd read on Crochetville about how you could figure out what a yarn was made from by how it acts when it's burned. And that's one of the reasons I'd never used this yarn, because I didn't know what it was made from. So I snipped off a small piece and burned it, and sho 'nuff, this stuff is cotton yarn.
The first one I made is a simple one. It's all single crochet. That's it.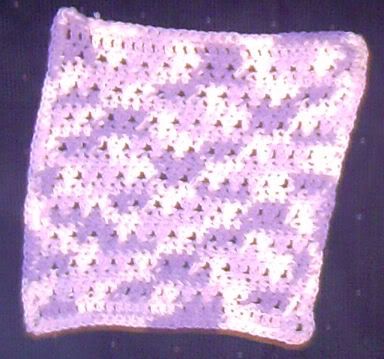 The second one was a little more difficult, but once I got going, it wasn't as hard as I thought it would be. It's a combination of hdc and cross-stitch, with a border of sc.
I found the pattern on
Crochet Pattern Central
. If I could remember PRECISELY which pattern it was, I'd give y'all the link. But for the life of me, I can't remember which one. I've looked at so many (I've got Christmas gift lists going in my head right now because this has inspired me) in the last two days that I just can't remember which one it was.
The last one I made, which I just finished about an hour or so ago, I would have to say is my favorite. This is the first one I think I'll use when I do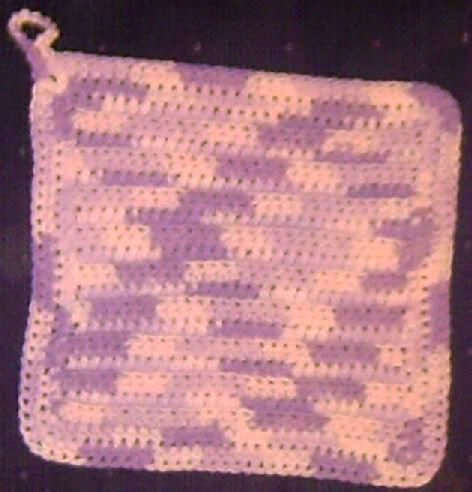 get to use them. It's all hdc, but in the back loops only.
To me, it not only looks neater, but with the ridges created by going through the back loop, it should give a scrubbing/exfoliating action. And this yarn is so SOFT! It feels - and even looks vaguely like - SUEDE! I'm only sorry that I only had the one ball. I could easily see this yarn made up into some sort of wearable. A shawl or a shrug, for example. But hey... I've got me some brand spankin' new, absolutely divine washcloths to use the next time I need a wash.
And best of all, I've got some practice in, so when it comes time to start planning and making Christmas gifts this year, I won't be making myself crazy.
Edited to add: I actually did use that last one in the shower, and I was right. The ridges made by crocheting into the back loops only made for a GREAT scrubbing action, while at the same time it felt REALLY soft. I am DEFINITELY making some of these for Christmas gifts this year!!